The Doctor Can See You Now. Like Right Now.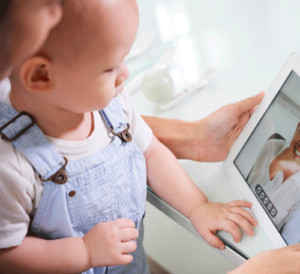 You may have concerns about going to the doctor, given the recommendations to stay at home. But, if your child has physical discomfort or signs of an illness, they need attention. That's why we're offering Online Virtual Visits so you can see your doctor from home.
Online Virtual Visits may include typical conditions like tummy and ear aches, rashes and skin conditions, or symptoms of cold or flu. And if your child is experiencing severe anxiety or depression, we want to hear from you.
Give us a call for any reason and we'll help you
determine if a Online Virtual Visit is the right fit.
Are you still open during the COVID-19 "shut down" orders
Yes. COPA is an essential medical service to the children of the region, just as we have been for 45 years. We're staying connected with patients, both online and in person, to keep kids healthy and comfortable. Parents are encouraged to call for anything at all, from typical childhood conditions to more serious health concerns.
Can I see my regular pediatrician?
Yes you can. You can visit with your provider from your home using the Online Virtual Visit tool with your smartphone, tablet or laptop. Or, for more serious symptoms, we can see you in the clinic.
We are also seeing patients in the clinic who need essential immunizations and infants who are scheduled for frequent visits during their first year. Call for more information about your well child appointment.
Is it safe to come into the clinic during the COVID-19 outbreak?
COPA is performing all the recommended safety precautions for keeping patients and staff safe from spreading a virus. We are screening all patients before their visit for any symptoms of respiratory illness so that we can fully prepare for arrival in the safest way possible. We're also screening patients and parents when they arrive at the clinics for any symptoms of illness.
We're distancing our patients in the waiting area, disinfecting clinic lobbies and all hard surfaces, scrubbing down exam rooms and have removed all toys, books and materials that can be handled. We're also separating children with symptoms of respiratory illness from other patients.
COPA is committed to taking care of our patients and staff and will do everything possible to maintain a safe clinic environment.
What if my child has concerning symptoms?
Call us if your child has any symptoms you believe to be a concern and we'll help you determine the best course of action. We may recommend an Online Virtual Visit with a doctor using your smartphone, tablet, or laptop. Or, we may ask that you come into the clinic. We'll talk to you about everything and discuss the best course of action.
As well, if you or your child has been exposed to someone known to have tested positive, call us immediately.
My child is on prescription medication. What should I do?
Call us. We're happy to connect you with a physician for a follow up visit or RX renewal. We may schedule a Online Virtual Visit or an exam in the clinic based on their needs.
I'm concerned my child is depressed or has serious anxiety. What can I do?
Call us. Your child can connect with a Behavioral Health Consultant with an Online Virtual Visit for a quality and supportive discussion using live video. You just need a smartphone, tablet, or laptop.
Are you accepting new patients?
Yes we are. COPA welcomes all kids and their families and we accept all insurance plans.
We're also accepting new patients and, of course, continuing to care for newborns. All children are welcome and we accept all forms of insurance.
I'm having a baby soon and is there anything I need to think about?
It's understandable that you're concerned. We are seeing newborns every day in our clinics and taking extreme precautions to protect everyone. After 45 years in Central Oregon, we're considered the pediatric experts for newborns. Our pediatricians have deep experience with babies and we'll help you through this.
Give us a call and connect with a Newborn Patient Advocate. They will get your information and pre-register you before you have the baby and be your point of contact after the baby is born. We'll set up your first appointments and walk you through all the details.
You can rest easy knowing that we're here to help you with everything. Call today and let's get started.
Pediatricians in Bend and Redmond, Oregon
©2018 Central Oregon Pediatric Associates | COPA is a 5-Star medical home for kids and the region's largest provider of pediatric health care for children, serving newborns through high school.
Open 7 days a week to serve our community with four locations in Bend and Redmond, extended hours and 24/7 Nurse Advice.