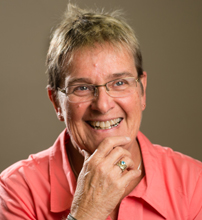 Dr. Valerie Bailie MD, FAAP
Board Certified Pediatrician
Dr. Bailie continues to consult with COPA physicians on complex cases, however, she is no longer in the clinic full time and is not taking new patients.
Promoting an environment where patients and their families can ask questions and feel heard was an important part of Dr. Bailie's practice at Central Oregon Pediatric Associates. When Dr. Bailie was practicing full time, she would handle the clinic's most complex medical cases as well as being an NICU specialist. Her influence is still felt among physicians at COPA who learned from her leadership and medical expertise.
Dr. Bailie's impact on Central Oregon kids can be found outside of the COPA community. She was instrumental in developing the KIDS Center in Central Oregon (a safe haven for sexually-abused children) and previously served on the board for Volunteers in Medicine.
When Dr. Bailie stopped working full time in 2017, she was seeing the grandchildren of the children she served when first practicing at COPA so many years ago. Until the day she retired, she continued to be one of the most sought-after pediatricians in the region.
Quilting is Dr. Bailie's favorite hobby. She also enjoys reading, hiking and camping.
Board Certified Pediatrician
University of Nebraska College of Medicine
University of Nebraska Medical Center Residency
Assistant Professor of Pediatric Ambulatory Medicine at UNMC
Clinical Assistant Professor of Pediatrics, Western University of Health Sciences
St. Charles Healthy System on-call pediatrician
"Dr. Bailie really has a way with teenagers! My daughter was really uncommunicative with us at home but was comfortable talking with Dr. Bailie. What a blessing to have another person with our child's health at the top of their list!"
©2018 Central Oregon Pediatric Associates | COPA is the largest provider of health care for infants and children in Central Oregon.
Open 365 days to serve our community with three locations, expanded hours and 24/7 Nurse Advice.