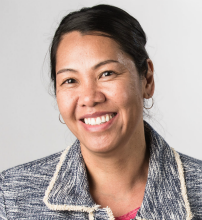 Michaela Nalamliang, RN, MSN, CPNP, PMHS
Certified Pediatric Nurse Practitioner
Michaela Nalamliang has received extensive training as a pediatric nurse practitioner and has served children and their families in advanced medical disciplines at UCLA Children's Hospital in California. She has deep experience with general pediatrics as well as pediatric acute care, advanced chronic illness, pediatric neurology, palliative care, and other specialities.
She moved to Bend in 2017 to continue practicing pediatrics and joined COPA in 2018 to serve children and their families in a 5 Star medical home environment. She enjoys working with COPA, as the most trusted and recommended group of pediatricians in the Central Oregon region and looks forward to developing life long relationships with her patients and their families.
Michaela is also a board certified Pediatric Primary Care Mental Health Specialist (PMHS) and is working with the psychologists at COPA to ensure children receive the support they need for issues related to behavioral health.
Board Certified Pediatric Nurse Practitioner
Board Certified Pediatric Primary Care Mental Health Specialist
UCLA School of Nursing Masters of Nursing and Pediatric Nurse Practitioner
University of Southern California Bachelor of Science Degree in Nursing
©2018 Central Oregon Pediatric Associates | COPA is the largest provider of health care for infants and children in Central Oregon.
Open 365 days to serve our community with three locations, expanded hours and 24/7 Nurse Advice.