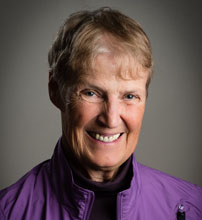 Dr. Mary Brown MD, FAAP
Board Certified Pediatrician
Dr. Mary Brown is Central Oregon Pediatric Associates longest-tenured physician and is one of the clinic's original founders. She continues to consult with COPA physicians on complex cases, but is no longer in the clinic full time, nor is she accepting new patients.
Dr. Brown's mission and medical philosophies became the foundation that is still driving COPA today – the commitment to serve all children and foster an entire community for a lifetime of health.
Early in her career, she served as a medical officer in Vietnam. Today, she not only cares for Central Oregon's most vulnerable citizens, but her influence extends to children throughout the country as one of 10 representatives on the American Academy of Pediatrics board. In addition to her practice in Bend, Dr. Brown spends much of her time in Washington, D.C., Chicago and the 13 states and 2 providences she covers helping to craft pediatric health care policy for the entire U.S.
When she's not traveling the country advocating for kids' health, Dr. Brown enjoys spending time with her four children and three grandchildren on her alfalfa ranch in Riley. She can also be found birdwatching on her family's ranch near the Malheur Wildlife Refuge in southeastern Oregon. Among her favorite activities are sewing and knitting, as well as enjoying outdoor pursuits such as hiking and fly fishing
University of Oregon Medical School
Board Certified Pediatrician
Chairperson, District VIII (Western USA), American Academy of Pediatrics
Founder of COPA, 1975
"Mary took care of me when I was a little girl. When it was time to have a family of my own I was so blessed to be able to take my girls to Dr. Brown."
©2018 Central Oregon Pediatric Associates | COPA is the largest provider of health care for infants and children in Central Oregon.
Open 365 days to serve our community with three locations, expanded hours and 24/7 Nurse Advice.