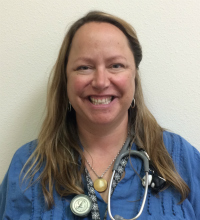 Maria Benavides, MS, PA-C
Physician Assistant
Maria earned her Masters in Physician Assistant studies at OHSU and joined the COPA team in the summer of 2017. She has lived in Central Oregon for the past two decades and previously served the community as a Licensed Acupuncturist and more recently as a Physician Assistant in Urology.
Her interest in Pediatrics began volunteering for a family refugee relocation service while completing her undergraduate degree at the University of Vermont helping orient them to their new homes and develop English language skills. With extended family in Costa Rica she has traveled to Central America multiple times and has a working knowledge of conversational Spanish.
Maria loves all aspects of medicine and values improving the quality of life for her patients in Pediatrics. In her spare time, she loves spending time with her family and friends, white water rafting, and attempting to grow flowers in Central Oregon.
©2018 Central Oregon Pediatric Associates | COPA is the largest provider of health care for infants and children in Central Oregon.
Open 365 days to serve our community with three locations, expanded hours and 24/7 Nurse Advice.