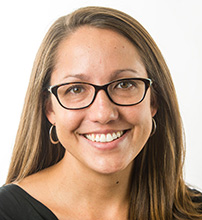 Dr. Leslie (Austin) Rust, MD, FAAP
Board Certified Pediatrician
Dr. Rust considers herself highly fortunate to care for children in Central Oregon and work with the team at COPA. She wanted to be a pediatrician since she was a kid and it's always been her dream to work in a professional pediatric environment.
She enjoys working with children in all stages of life and from all backgrounds. She believes in supporting kids as they grow and develop, and places strong emphasis on collaborating with families to determine the best care for each individual patient.
After growing up in Tennessee and completing medical school at the University of Tennessee, Dr. Rust moved to Denver, Colorado for residency at the Children's Hospital of Colorado. Following completion of residency, she worked as an attending physician at the Children's Hospital of Colorado in their Urgent Care and Emergency department. While in Denver, she was involved in various legislative projects and advocacy for early childhood literacy. She gained valuable experience working at a large research hospital, but her heart has always been drawn to the relationships that are built in the primary care environment. She feels that there couldn't be a better place to put down roots and build those relationships than in Central Oregon.
In her free time, you can find her exploring all of the great outdoors that Central Oregon has to offer with her husband and their crazy but loveable australian shepherd. She enjoys horseback riding, trail running, mountain biking, river rafting, and is still attempting to learn to ski (there wasn't much snow growing up in the South!)
Board Certified Pediatrician
University of Tennessee School of Medicine
Residency at Children's Hospital of Colorado
Physician at Urgent Care Unit at Children's Hospital of Colorado
©2018 Central Oregon Pediatric Associates | COPA is the largest provider of health care for infants and children in Central Oregon.
Open 365 days to serve our community with three locations, expanded hours and 24/7 Nurse Advice.