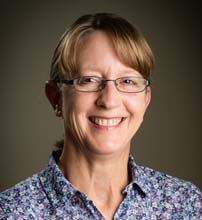 Cris Ricker MS, PA-C
Physician Assistant
Cris Ricker is one of three Physician Assistants at COPA. Working with parents to better understand their kids' health is a top concern for Cris. She focuses on making a difference in the lives of families by communicating effectively with parents, who have a tough job, she says. "Being a parent myself, gives me a greater understanding of the challenges many families face everyday.", according to Cris.
When patients and families leave COPA after an office visit with Cris, her priority is that they feel well cared for and that their concerns were heard. Being active outside of COPA helps Ricker keep up with her three boys. She is an avid cross-country skier, mountain biker, and enjoys hiking and playing tennis. She can often be seen on the sidelines at baseball, football and soccer games, cheering on her very active boys.
"Cris Ricker is great!  My autistic son is so nervous around new people.  She understands and really knows how to interact with him.  It makes it easier on both of us."
©2018 Central Oregon Pediatric Associates | COPA is the largest provider of health care for infants and children in Central Oregon.
Open 365 days to serve our community with three locations, expanded hours and 24/7 Nurse Advice.