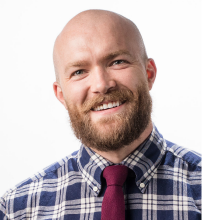 Kris Cox, MS, PA-C
Physician Assistant
Kris Cox, Physician Assistant, moved to Bend in 2018 from Portland's Oregon Health and Science University after having deep experience as a faculty instructor and Physician Assistant in the Cardiovascular and Intensive Care Unit. He also performed as a physician assistant in a variety of specialty departments at OHSU beginning in 2014. At OHSU, Kris specialized in improving and documenting ICU best practices. Prior to joining OHSU, Kris worked at Shriners Hospital for Children assisting procedures and removal of casts, splints, surgical pins and sutures.
Kris is excited to join COPA with its 5 Star medical home status and to work with pediatricians in the most trusted and recommended practice for children in the Central Oregon region.
Certified Physician Assistant
Oregon Health and Science University Master of Physician Assistant Studies
©2018 Central Oregon Pediatric Associates | COPA is the largest provider of health care for infants and children in Central Oregon.
Open 365 days to serve our community with three locations, expanded hours and 24/7 Nurse Advice.